Broadcast stations whose licensed were revoked have been given an extension by the National Broadcasting Commission (NBC) to pay their debt before August 24, 2022
The National Broadcasting Commission (NBC) has on Saturday extended the deadline to shut down the 52 broadcast stations whose licenses were revoked.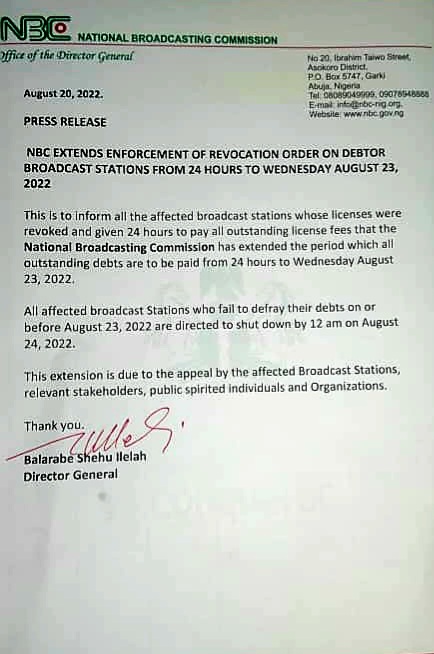 According to a statement obtained by The Herald, NBC said it has extended the shutdown to Wednesday, August 24, 2022.
READ ALSO: "I don't campaign for politicians" – Mr Macaroni
NBC said "This Is to Inform all the affected broadcast stations whose licenses were revoked and given 24 haurs to pay all outstanding license fees that the National Broadcasting Commission has extended the period which all
gutstanding debts are to be paid from 24 hours to Wednesday August 23, 2022.
"All affected broadcast Stations who ail to defray their debts on or before August 23, 2022 are directed to shut down by 12 am on August 24, 2022.
"This extension is due to the appeal by the affected Broadcast Stations, relevant stakeholders, public spirited individuals and Organizations."
NBC shuts down 52 broadcast stations
The Herald had on Friday reported that NBC revoked the broadcast licenses of Silverbird TV, Rhythm FM, African Independent Television (AIT), Raypower FM, and others for indebtedness to the commission.
NUJ calls NBC's sanction hasty
The Nigeria Union of Journalists (NUJ) condemned NBC's sanction and revocation of 52 broadcast station.
NUJ while condemning NBC's sanction via a statement on Friday said that the decision is hasty and ill-timed.
The union's national president, Chris Isiguzo via the statement said that "The decision today by the industry regulator, the National Broadcasting Commission – NBC, to revoke the licenses of 52 broadcast stations nationwide over indebtedness to the Commission was ill-advised.
"The affected stations, according to NBC are said to owe arrears of licence fees amounting to ₦2.6 billion since 2015.
"Although the Director General of NBC, Malam Balarabe Shehu Ilelah claimed that this development had no political motives, we insist that the action was ill-timed and reckless.
"It should be noted that this wholesale revocation of licences at this critical time of insecurity in the Country appears to be a decision taken without careful prior deliberation, consultation, or counsel."