Nollywood actor, Ayo Animashaun popularly known as Ayo Silver has explained how an auto accident on the Lagos-Ibadan Expressway nearly ended his life.
Taking to social media in December 2022, the actor shared photos and videos of himself in hospital and his mangled car after the accident.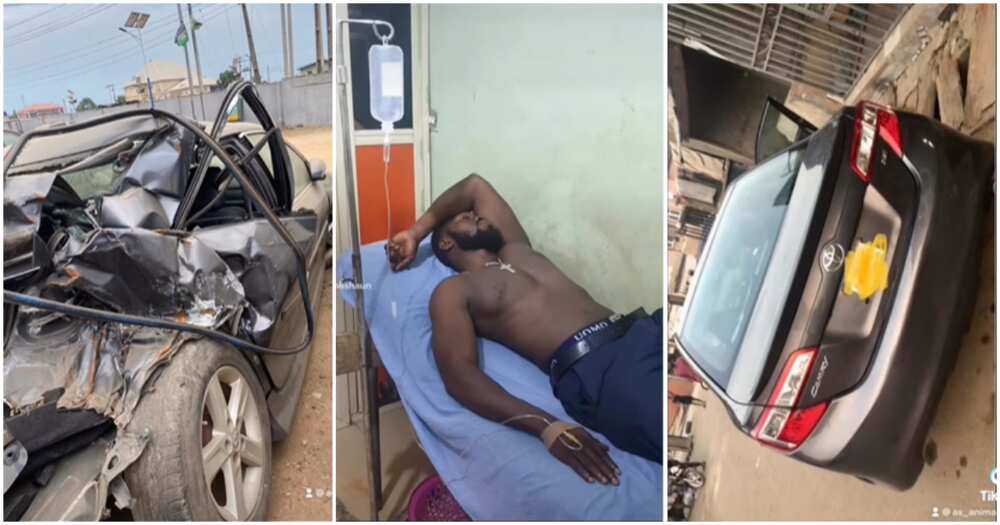 He also expressed gratitude to God for sparing his life.
Weeks after, the actor has now given full details of the accident.
Animashaun said it occurred on December 22, 2022, a few days to his birthday.
"In addition to my acting career, I am also a site engineer, I help people with construction. A client of mine gave me a future plan to help him excavate a swimming pool and lounge. That was where I was coming from when the accident happened. I had already got to Magboro when a trailer carrying gravel had a brake failure and ran into my car. It dragged my car, causing it to spin. In fact, I thought my car was going to fall in the ditch around Magboro bus stop. I saw my car spinning. People were already shouting that I was dead, because my car was compressed totally. But I was rescued and rushed to a nearby hospital in Magboro, where I got first aid treatment before I was referred to Ifako General Hospital," he told The Punch.
Explaining how he felt surviving the accident, Animashaun said, "It took me an extra hour to confirm to myself that I was still breathing because at that moment I saw my soul leaving my body. You can imagine you sitting and driving your car, the steering is not controlling, the brakes are not working and the car is just spinning. I was travelling, so, I was on 100-120km/h on the express. Then the trailer ran into me, my car started spinning, then I said to myself, "This is the end.""
He said that he was lucky to escape without major injuries but "some scratch and bruise on my lips".