Hear what Tiwa Savage has to say about Yemi Alade, Teni, Niniola, Waje and others (Video)
Universal Music artist, Tiwa Savage, whose new single '4999' will be released at 4:00 pm later today, September 5, 2019, has given a shout-out to her fellow African female artists.
This came after a member of the audience asked, "… (since) you're a huge inspiration for Nigerians and Africans as well… After you, who will you do a collaboration with then? In Nigeria, Africa, who do you think is on that path?"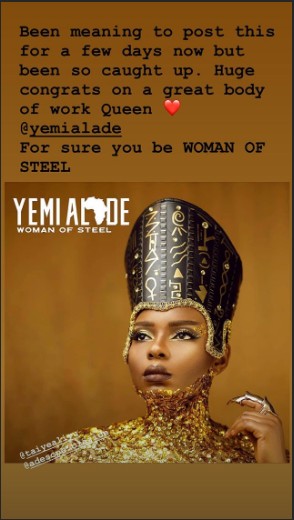 Tiwa Savage gives a shout-out to Yemi Alade on her new album, 'Woman of Steel.' (Instagram/Tiwa Savage)
She replied, "Oh man, there are many many queens, man. Come on, like Yemi Alade just dropped an incredible body of work, huge shout-out to her. Errrm, who doesn't like Teni The Entertainer? Like, she's incredible. Simi, Niniola, Waje, Omawumi…"
"We even have Vanessa Mdee from the east, we have Becca whom I have done records with as well. And even the females from the UK, like you, have Tomi… There's so many… Lola Rae…"
After she had given the shout-outs, she then charged women to fight because men can be difficult to deal with. She says, "(To keep doing it big) We just need to fight."
She then joked that "You men are just ruling us, ah… Agbara yin PO (Your powers are you much). African men are stubborn. (Laughs)"
This comes after her decision to boycott her scheduled performance at the DSTV Music Festival in Johannesburg, South Africa, which she posted via her twitter handle on Wednesday, September 4, 2019.
READ ALSO: Xenophobia: Tiwa Savage Cancels show in South Africa
She made this decision in the cause of the xenophobic attacks in Johannesburg, South Africa.
Straight from the airport to my first interview in NYC. I no even baff sef I dey paint face 🤦🏾‍♀️🤦🏾‍♀️
Wipe and Spray 🤫🤫🤣🤣😊😊
#4999 out in a few hours
Subscribe to my channel https://t.co/bHcuvZFHjA pic.twitter.com/nImmvGZKdZ

— Tiwa Savage ⚔️ (@TiwaSavage) September 5, 2019
Tiwa Savage she is currently having an interview in New York City, New York, US, as part of the promotions for her new single, '4999.'
Below is the video of Tiwa Savage giving shout-outs to her fellow African female artists
https://www.youtube.com/watch?v=_KTzg1hZhd4